Project Description
A great company becomes great by celebrating the loyalty of its customers!

Toyota, the leader in automotive manufacturing, wanted to honour its most loyal customers. They invited 35 customers from different states to a celebration event and manufacturing unit walkthrough.

We had the privilege of covering the entire event across 2 days. Our goal was to showcase what makes Toyota a customer favourite.

We wanted to achieve this by transcending the norms of a corporate video to cover the journey of a customer.

In their own words and experiences, customers expressed their appreciation for Toyota and its awesome services!

Problem Statement
35 people from different states.

No scripts, no retakes – Just unfiltered emotions had to be unfurled in a heartwarming video.

Capturing all these stories seemed like a daunting task.

Another major challenge was shooting the video in the airport – Restrictions, crowd interruptions and coordinating guest arrivals to record their first responses.

This required synergetic coordination, event management and quite frankly, a miracle to ensure that there was no delay in the given timeframe.

Solution
We mustered all the courage and video production skills to tackle these challenges. Our goal was to depict a memorable story of Toyota's customers – Their journey through their eyes.
Here are a few major steps that proved to be game-changers in the project –

> Creative scripting: By adopting dynamic scripting, we embraced genuine emotions. Tailoring questions to evoke personal stories, we captured authentic expressions. This laid the path for "Our Journey" to become a true celebration of loyalty and connection.

> Teamwork and expert management: Right from recruitment to planning the schedule, every aspect of the event was planned to perfection!

> Cinematic narration: Our aim was to not just cover an event, but to craft a video that Toyota and its customers would remember for a lifetime!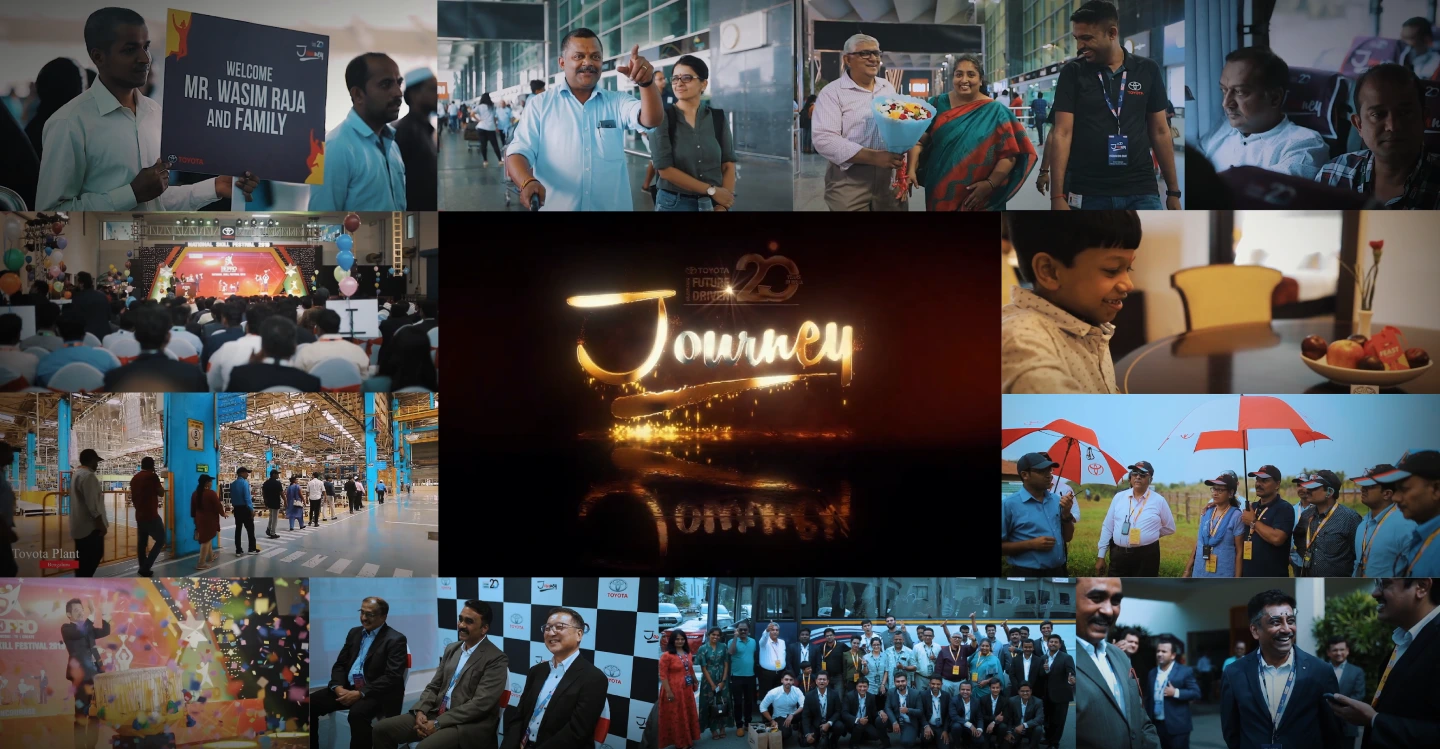 OUTCOME
We look back at Toyota's 'Our Journey' as one of our finest productions.

It was a heartwarming video made with agile event coverage and expert cinematography. The video effectively conveyed Toyota's appreciation for its customers, increased brand loyalty and showcased to the world why Toyota is an incredible company!
> The video resonated with other customers fostering an emotional connection with the brand.

> Expert event management and video production led to a brilliant picturisation of trust and the depth of the relationship between Toyota and its customers. It was highly regarded by everyone in Toyota!

> The video increased brand awareness and enhanced Toyota's reputation as a compassionate and customer-friendly company.
We didn't just create a corporate video – we wove a tale of loyalty, passion, and authenticity. Each customer received a piece of this enchanting journey on a special pendrive 📀 – a cherished memory they still hold close.


Want us to cover your Company's Event? Fill the form below! 👇